23 May 2018
Mazda3: Car of Choice
Make these choices before you visit Nowra Mazda.
Four ways you can breeze through your visit
When you've spent some time researching new cars, chances are you have some ideas about what you'd like. However when you walk into the Dealership, new possibilities always open up. With Mazda3, seeing the design or sitting in the driver's seat will give you a better sense of what it feels like to own it.
By making a few educated choices before you arrive, not only will you be less confused, you won't waste a second of your visit.
Choice one: hatch or sedan
The first big choice with Mazda3 is whether you'll go with a hatch or sedan. The decision will depend on what suits your lifestyle. A hatch could be the way to go if you'll be zipping around the city. For more boot space, you might choose the sedan. There's not a huge difference in size, the sedan is slightly longer, so ultimately, it's up to you to choose the look you like.
Choice Two: Your Grade
Each grade has different features and prices. So, it's worth exploring the Mazda3 grades. There's Neo Sport, Maxx Sport, Touring, SP25, SP25 GT and SP25 Astina.
The entry Neo Sport, for example, has power mirrors, cruise control, emergency brake assist and MZD Connect infotainment system. Step up to the Maxx Sport and you'll also get fog lamps, satellite navigation, reverse camera and Blind Spot Monitoring.
When it comes to the SP25 GT, there's the Bose sound system and leather interior, while at the top end, Lane Departure Warning and Forward Obstruction Warning technology make the SP25 Astina the most advanced grade you can buy.
Your grade will also have an impact on your engine size. In SP25, SP25 GT and SP25 GT Astina you'll have the added power of a 2.5-litre SKYACTIV-G engine. The other grades receive the punchy 2.0 litre engine.
Choice three: colour and trim
It's hard to go wrong where colours are concerned. From Snowflake White Pearl Mica to Soul Red Crystal Metallic, there's a shade to suit your taste. Once you have a colour preference, it's also good to consider your interior – you'll be spending a lot of time in the driver's seat, so make it your own.
Your trim options will depend on the vehicle grade. For example, Neo Sport, Maxx Sport, and SP25 have black fabric interiors, while you have the choice between black or pure white leather in the Touring, SP25 GT and SP25 Astina. If you do choose pure white leather it's only available with certain body colours, being Soul Red Crystal Metallic, Machine Grey Metallic and Deep Crystal Blue Mica. If you've settled on a Machine Grey Mazda3 and there's not one in stock when you visit, take a look at another model in your chosen colour to get a better sense of what it looks like.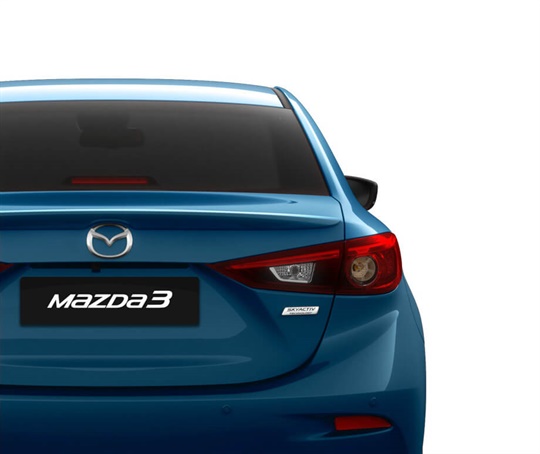 Choice four: Personalisation
There are so many ways you can tailor your car to your lifestyle. Sport and adventure enthusiasts will appreciate the kayak holder, bike racks and boot lip protector, which is ideal for golf clubs. Families will likely see value in the rear seat entertainment holder and the cargo tray, which makes packing for weekends away easier.
Your future car can be as individual as you are, it's simply a matter of doing your research and making the right choices.