31 May 2019
Next-Gen Mazda3 Scores 5-Star Ancap Rating
Next-Gen Mazda3 has achieved the maximum five-star safety rating from the Australia New Car Assessment Program (ANCAP), scoring a record breaking result in one category.
Tested to strict criteria, the result helps Mazda maintain its five-star safety rating across its entire range of vehicles.
The rating applies to all Next-Gen Mazda3 models, which are equipped with an unprecedented list of advanced active and passive safety technologies as standard.
Managing Director of Mazda Australia, Vinesh Bhindi, said the result is testament to Mazda's Proactive Safety Philosophy.
"Safety is at the forefront of Mazda's approach to vehicle design; ensuring our cars are equipped with the best in safety technology is a basic criteria," said Mr Bhindi.
Next-Gen Mazda3's impressive list of active safety technology includes a series of low to high speed autonomous emergency brake technologies called Smart Brake Support (SBS).
Other standard equipment includes Mazda Radar Cruise Control (MRCC) with Stop & Go, Lane-keep Assist System (LAS), Lane Departure Warning (LDW) and Forward Obstruction Warning (FOW).
Newly developed Vision Technology is available on the top-spec G25 Astina model, and can be optioned to any other grade to further support the driver.
The Vision Technology suite includes a Driver Monitoring system that uses an infrared camera to observe the driver's condition, Front Cross Traffic Alert (FCTA) to monitor blind spots at the front left and right of the vehicle and Cruising & Traffic Support (CTS), which helps reduce driver fatigue by assisting with accelerator, brake pedal and steering operations when stuck in traffic jams on the highway.
From a passive safety perspective, Next-Gen Mazda3's credentials are strengthened with the ratio of ultra-high-tensile steel rated at 980MPa or higher greatly increased, from the 3% used on the previous model to 30% for the new model.
Next-Gen Mazda3 is also the first car in the world to adopt 1,310MPa-grade ultra-high-tensile steel to form part of its framework, and the first Mazda vehicle to add a driver's seat knee airbag as standard equipment.
Plus, Mazda has improved measures that protect against frontal, side and rear impact, and better pedestrian, motorcycle and bicycle protection. Seat design and seatbelts have also been improved to mitigate injuries for all occupants.
Next-Gen Mazda3 is on sale now, available as an elegant sedan or sporty hatchback. Customers have a choice between six model grades and two highly efficiency Skyactiv-G petrol engines.
Explore Mazda3 Safety Features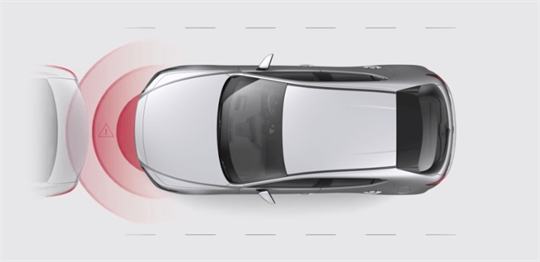 Smart City Brake Support (SCBS) with Pedestrian Recognition monitors the vehicle in front to assess the likelihood of a collision when travelling between 4-80km/h. If there is a high risk, the system will warn you and brake automatically if needed.
Lane Departure Warning (LDW) monitors road markings and alerts you if you're straying from your lane when travelling over 65km/h. If no action is taken, Lane-keep Assist System (LAS) will apply corrective steering to help guide you back.
Blind Spot Monitoring (BSM) scans external mirrors' blind spots up to 50m behind your vehicle, while radars detect unseen vehicles to alert you of any potential hazardous lane changes.
Mazda Radar Cruise Control (MRCC) with Stop & Go adjusts your speed to maintain a safe distance from the car ahead with the ability to bring you to a complete stop in traffic and take off again once traffic moves.